Görüntü İşleme Sensörü CS 60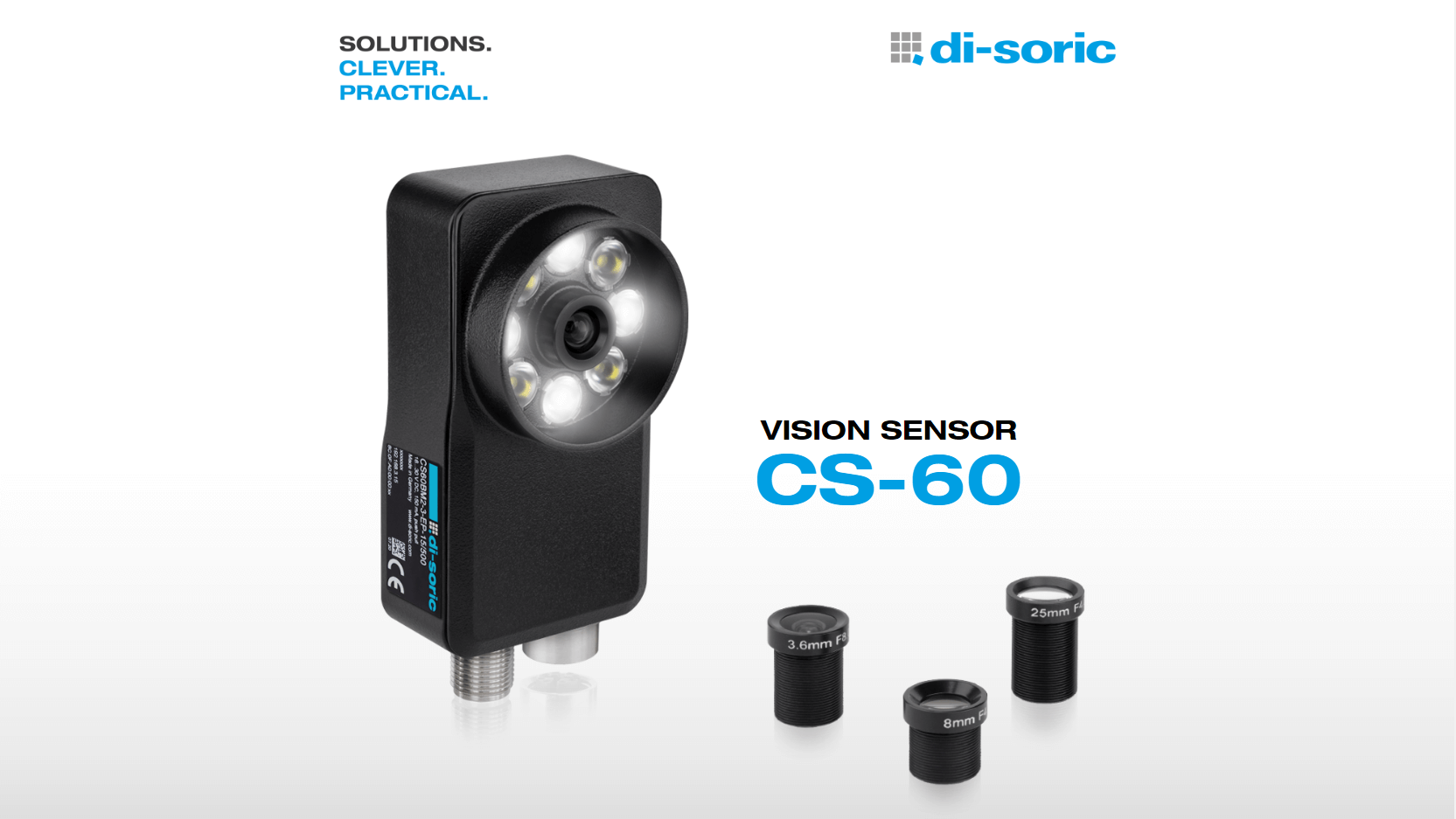 VISION SENSOR CS-60
THE BEST POSSIBLE FLEXIBILITY FOR DEMANDING INSPECTION TASKS
Our CS-60 Vision Sensor offers outstanding flexibility for the highest degree of productivity.
Due to easy lens changing and integrated high-performance illumination, the CS-60 creates excellent images with respect to distance, field of vision and resolution. The extensive tools can be easily expanded through software upgrades and may be individually customized as needed. Comfortable, logical linking of tools and the versatile Profinet connection to the existing PLS component complete its flexibility.
More picture details? The new models of the CS-60 series with 1.6 megapixel
The perfect serial addition: Whenever fine details are to be processed in an image processing application or even the smallest defects must be captured, detailed images are a prerequisite. With the new sensor technology of the Sony IMX273 sensor, the CS60-BM3X vision sensors achieve a resolution of 1456 x 1088 pixels - with a larger inspection range.
Order and test samples now!
Test the flexible vision sensor CS-60 and many other solutions for free and convince yourself for 28 days.
Make an appointment now!
Benefit from our expert knowledge and make an appointment for a consultation – by phone, video conference or on site.
Comprehensive focal lengths through M12 interchangeable lenses!
for satisfying all common application requirements in the industrial vision sensor area
High-performance image-processing tools and a user-friendly, intuitive software interface
ensure easy and seamless integration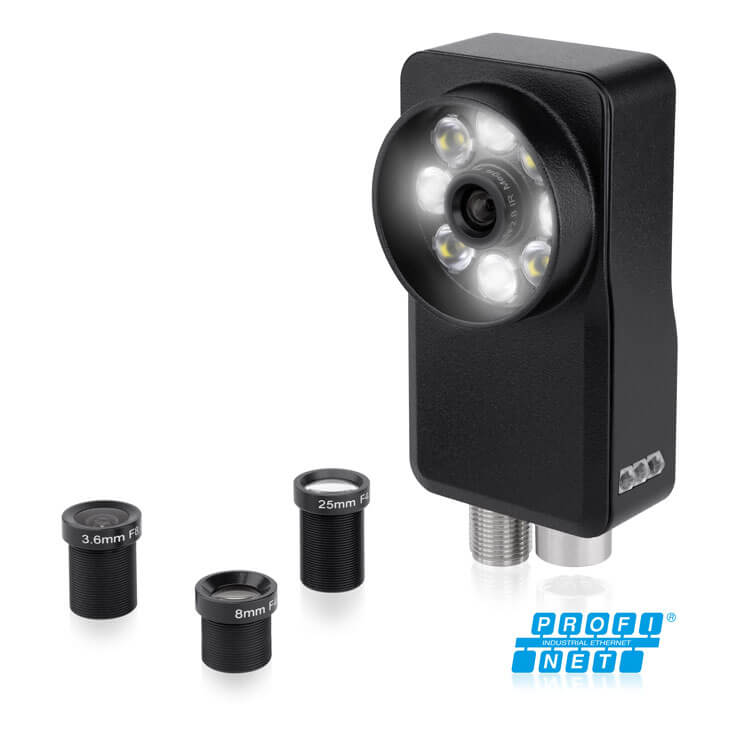 Integrated high power LED illumination in red and white
Illumination can be switched in the software for optimal startup at high speed and at a large working distance
Upgrade function
The modules "Measurement" and "1D and 2D code Reading" can be acquired separately or together as a software expansion to the standard module (Localization, Detection, Counting) with a simple license model. Further information in the brochure.
Customization
In addition to upgrades, we also offer the expansion or modification of the nVision-i software for tailored solutions – including startup support for maximum productivity and quality gains.
Supports industry protocols
Digital E/A, TCP/IP, Profinet, HTTP, FTP and ReST-API are supported
Robust, compact casing with protection class IP67
For use in working environments with active washing without the application of additional protective equipment
Reliable and fast: The ID Read tool for all common 1D and 2D code types
(Optional upgrade)
APPLICATIONS
Our vision sensors rise to the challenge of ambitious verification tasks and thus can be used in a variety of industries. Via comprehensive image processing tools, both the verification of the quality and completeness of parts is possible as well as their localization and the transmission of determined positions by way of various communication interfaces.
Inspection and robotic pick & place
Assembly
Position checks in the packaging industry
Alignment of components
using barcode
Quality control for packaging machines
via barcode determination
VISION SENSOR CS-60
nVision-i Software
Save time
Not just because of the interface, which is clear, intuitive and simple to operate, but also because of the high-performance tools, which can be optimized at the highest level of quality and with the highest level of performance. The visualization of the pipeline and linking of individual tasks in the Logic tool make the greatest degree of flexibility and high speed in the realization of the application possible.

Pipeline & status checks
Verification tools can be inserted on the left and moved via drag & drop
Measured values and test results/status are also shown on the left side
Pipeline & status checks
Verification tools can be inserted on the left and moved via drag & drop
Measured values and test results/status are also shown on the left side
Menu guidance available in 4 languages (German, English, French, Chinese)
Configuration
Parameters for search criteria can be adjusted simply and directly
Limit values for the evaluation criteria can be entered easily
Display & Drawing tools
Image viewing for checking and analysis during operation
Context-sensitive description of the tools on the right side to ensure optimal tool use with their complete functionality
THE NEW BROCHURE
VISION SENSORS
Learn more about the new vision sensor CS-60 and the proven vision sensors CS-50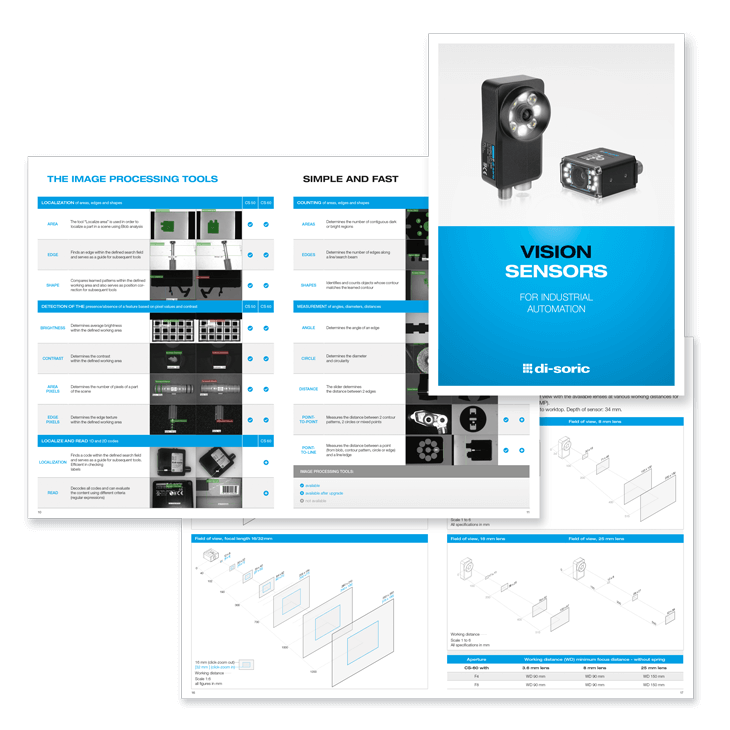 VISION SENSORS
FOR INDUSTRIAL AUTOMATION
All information about the Vision Sensor series CS-50 and CS-60, the software, the tools (with examples), the fields of view and all other technical data – now available for download:

CS-60 Selector
Directly to the selector for Vision Sensors CS-60:

Further Information
on the CS-50 Vision Sensors can also be found on the CS-50 info page following this link.