Lazer Mesafe Sensörü LAT-52

LASER DISTANCE SENSORS
LAT-52 / LVHT-52 COMPACT
WITH IO-LINK
FAST AND EXTREMELY PRECISE:
PRECISE MEASUREMENT WITH LAT-52
FOR MEASURING APPLICATIONS.
3 DIFFERENT MEASURING RANGES IN IDENTICAL DESIGN
For decades, di-soric has been developing distance sensors that set new standards. And now, di-soric is introducing the laser distance sensors with innovative dual operating concept - either via IO-Link or via manual adjustment using an operating panel. With IO-Link, specific settings can be configured, stored in the IO-Link master and reloaded as needed - even with a swapped device.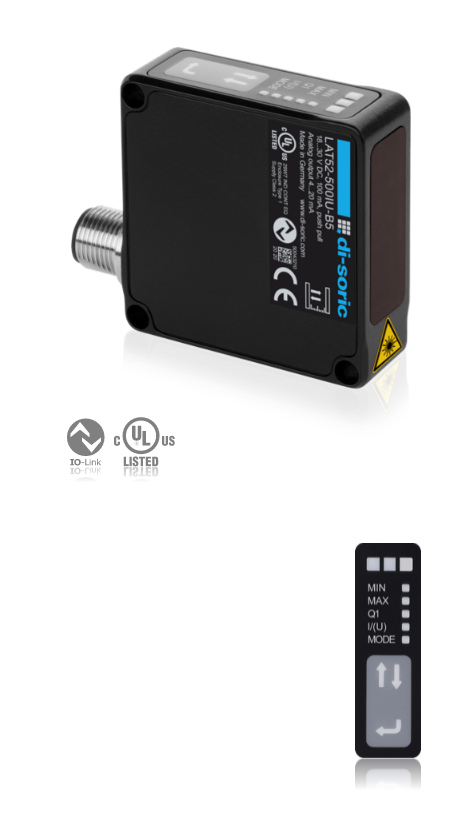 3 MEASURING RANGES AVAILABLE:
High resolution: 30 – 80 mm / 0.01 mm resolution*
Short distance: 50 – 200 mm / 0.01 mm resolution*
Universal: 50 – 500 mm / 0.1 mm resolution*
READY-TO-RUN
3 PRECONFIGURED SENSOR MODES
Standard: for a wide variety of applications
Power: For dark objects
Speed: quick measurement
IO-LINK
Digital, loss-free transmission of measured values
Diagnostic functions
Identification
Localization function
Average and median filter
IO-Link relative measurement
PRECISE, FAST AND SAFE
thanks to perfectly coordinated components that make optimal use of the triangulation method and thanks to use of a laser from the hazard-free Laser Class 1 according to EN 60825-1
VERY EASY OPERATION
Large, easy-to-operate keys
Important functions can be operated intuitively
3 readily visible diagnostic LEDs
Teach analog output
Teach switching output
NO/NC changeover
Current/voltage switchable
Selection of sensor mode
MORE FLEXIBLE, FASTER, MORE PRECISE, SIMPLER – 3 DIFFERENT MEASURING RANGES WITH SMALL BLIND ZONES
The three measuring ranges in the variants High-resolution, Short distance and Universal allow for implementation of an extremely wide variety of applications. Due to the small blind ranges, the LAT-52 can be integrated into machines with little installation space Three selectable sensor modes and additional fi lters ensure precise and optimal measurement results.
Sheet transport using robots
LAT52-500
The LAT52-500 units control the suction gripper of the robot The speed is adapted to the working distance with simultaneous collision avoidance, and thus the entire gripping process is time-optimized.
Position tappet
LAT52-80
In an assembly process, the impression depth must be determined with high precision. The high-resolution variant LAT52-80 with a measuring range starting at 30 mm ensures space-saving installation.
THE SWITCHING ALTERNATIVE:
PRECISE DETECTION WITH LVHT-52
THE LASER LIGHT BUTTON WITH WINDOW FUNCTION
AND A WORKING RANGE OF 50 – 500 MM

The LVHT-52 features a large detection range and a precisely adjustable window mode. This makes it a very e cient solution for applications that are meant to have a high degree of precision in switching but not measuring. Its extremely intuitive adjustment via the plus/minus keys ensures fast commissioning.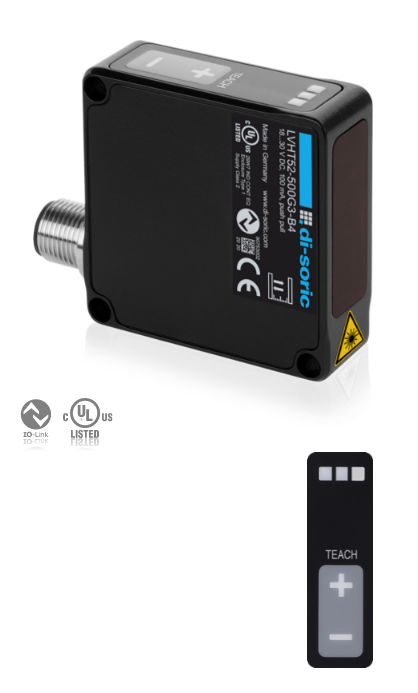 ROBUST DESIGN
Metal plug connector
Powder-coated die-cast zinc housing with IP67
Compatible with LVHT-51 and standard fastening options
PUSH-PULL OUTPUT
pnp or npn function in one device
PRECISE AND SAFE
Perfectly coordinated components
Safe thanks to laser class 1
IO-LINK
Switching point and hysteresis can be set down to the millimeter
Diagnostic functions
Identification
Localization function
VERY EASY OPERATION
Large, easy-to-operate keys
Important functions can be operated intuitively
3 diagnostic LEDs
Teach object detection
Teach windows
NO/NC changeover
Adaptation of switching point