Mükemmel Sensörler
OPTIMAL DISTANCE MEASUREMENT
IN AUTOMATION
In automation, there are the most diverse application scenarios:
from measurements of fill level, object positioning, to quality control. The diverse requirements, e.g. in relation to the object surface quality or the necessary precision, result from the specific application task.
High resolutions, measurements on shiny or dark objects, long ranges and high ambient light immunity – the selection of the appropriate sensor plays a decisive role here. di-soric offers the perfect sensors for contactless distance measurement for these applications in automation.
For us,
optimal distance measurement in automation
means solving the most diverse applications with as few products as possible.
di-soric's portfolio includes various product series of optical distance sensors and ultrasonic sensors that are designed for contactless distance measurement. Our sensors impress with their innovative IO-Link functions, various sizes and strong performance characteristics in all technologies.

The implemented, innovative IO-Link functions make certain measuring tasks, such as thickness measurement or the avoidance of mutual influencing of several sensors, possible in one application in the first place.
LAT-52 Compact
30 – 500 mm
For precise distance measurement
Universal through 3 measuring ranges
Sensor modes, filters for optimal measuring results
Operation using keys or via IO-Link
LVHT-52 Compact
50 – 500 mm
For precise distance detection
Compact, large measuring range
Foreground and background suppression
Operation using keys or via IO-Link
LAT-61 Precise
26 – 180 mm
For highly precise, quick measurements
Resolution in the micrometer range
Up to 5,000 measurements per second
Operation with keys and displays
LAT-45 Long Range
200 – 10 000 mm
Can be used anywhere
Ideal for dark surfaces
High ambient light immunity
Operation with keys, using a display or via IO-Link
Measuring ultrasonic sensors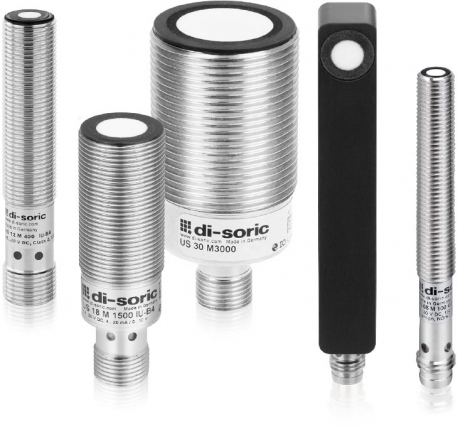 US-M12, US-M18, US-M30, US-Q12
Extremely small model up to 6 m range
Stable processes thanks to high precision
Ensured detection of small objects due to higher sensitivity
Simple commissioning through IO-Link
Self-sufficient sensor multiplex operation for avoiding mutual influence
Self-sufficient sensor sync operation for thickness measurements
US-M8
Smallest ultrasound sensor on the market with up to 100 mm range
Transfer of distance information via IO-Link
Can be flexibly used through configurable operating modes
Stable processes thanks to a high resolution of 0.1 mm
Low influence from the environment due the to the narrow sound beam
SOLUTIONS
ASSEMBLY AND HANDLING TECHNOLOGY
In assembly machines, individual parts are supplied, assembled and joined in an automated fashion. Each processing step is monitored. Our sensors ensure the measurement of distances in the mm or µm range, control fill levels and positioning processes, monitor size accuracy and the presence of objects. In this way, di-soric makes its contribution to the assembly of components and in the production of new products in the electronics, medical or automotive industries.
Height control in containers
with step feeders
Ultrasonic sensor
US Q12 M 400 XP G3-T4
Positioning of a linear axis in pressing processes
<
Optical distance sensor
LAT52-80IU-B5
Presence check for
O-ring
Optical distance sensor
LVHT52-500G3-B4
Measuring of assembled plug
contacts
Optical distance sensor
LAT 61 K 30/8 IUPN
SOLUTIONS
PACKAGING
The packaging industry requires sensors and sensor systems which are tailored to complex, frequently changing tasks. Distance sensors from di-soric are used for controlling manufacturing processes, the monitoring of the actual packaging processes and also for quality control of the manufactured products.
Measurement of roll diameter for unwinding control
Ultrasonic sensor
US 12 M 400 IU B4
Loop control with label printing machines
Optical distance sensor
LAT45-10MIU-B5
Stack control for blisters in cartoning machines
Optical distance sensor
LAT52-200IU-B5
Closure control for filling and sealing machines
Optical distance sensor
LAT52-80IU-B5
SOLUTIONS
ROBOTICS
Modern industrial robots require not only cameras as eyes, but precise sensors for detecting distances are also fundamental. Our distance sensors with laser or ultrasonic technology are predestined for sensor-guided movements in the mm and sub-mm range and therefore make control of fusion and assembly processes possible.
Detection of objects in a gripper
Ultrasonic sensor
US 08 M 100 G3-T4
Distance regulation in the adhesion process
Optical distance sensor
LAT52-200IU-B5
Distance measurement in the gripper
Optical distance sensor
LAT52-500IU-B5
Presence control for spark plug connector in an engine block
Optical distance sensor
LAT45-10MIU-B5
SOLUTIONS
LABORATORY AUTOMATION
Laboratory automation enables, independent of the number of the samples, valid and fast analysis results. Distance sensors within analysis machines can ensure that samples are correctly prepared for further processes – reliable in their function and with high availability.

SOLUTIONS
MOBILE EQUIPMENT
Mobile equipment has a broad range of application, both in agriculture and forestry and in materials handling. Optical sensors and ultrasonic sensors from di-soric can be used in a need-specific way for the regulation of distances and positioning tasks. The measurement of distances of the most diverse kinds objects is performed simply and reliably.
Checking screw tops on tubes
Optical distance sensor
LVHT52-500G3-B4
Linear positioning of pipettors
Optical distance sensor
LAT52-500IU-B5
Measurement of boom height on sprayers
Ultrasonic sensor
US 30 M 3000 IU-B4
Positioning of a lifting platform
Optical distance sensor
LAT45-10MIU-B5
SOLUTIONS
RUBBER AND PLASTICS
di-soric sensors are used in the processing of raw material and in the downstream processing and refinement of plastics. Distance measurement of the most diverse materials monitors fill levels and regulates various production processes.
SOLUTIONS
MACHINE TOOLS
A high degree of precision and measuring rate, coupled with absolute reliability are a must for sensors in modern machine tools. di-soric laser distance sensors also offer the necessary robustness. They detect distances and positions with a high degree of precision and enable high performance in the case of chipping, casting and reshaping production processes.
Diameter control on a film extruder
Ultrasonic sensor
US 12 M 400 G3-B4
Checking granulate fill level
Optical distance sensor
LAT45-10MIU-B5
End position control in can production
Optical distance sensor
LVHT52-500G3-B5
Detection of weld seams
Optical distance sensor
LAT 61 K 50/20 IUPN
More flexible, more transparent, more efficient
Production processes with IO-Link
IO-Link is a worldwide communication standard according to IEC 61131-9. Sensors and actuators with an immense range of functions and capabilities become intelligent and active process devices in the field with IO-Link. Production processes thereby become more flexible, more transparent, more efficient and more cost-efficient. IO-Link transforms sensors into digital products and enables Industry 4.0 systems designs.
di-soric products and their IO-Link benefits