Çerçeve Işık Bariyerleri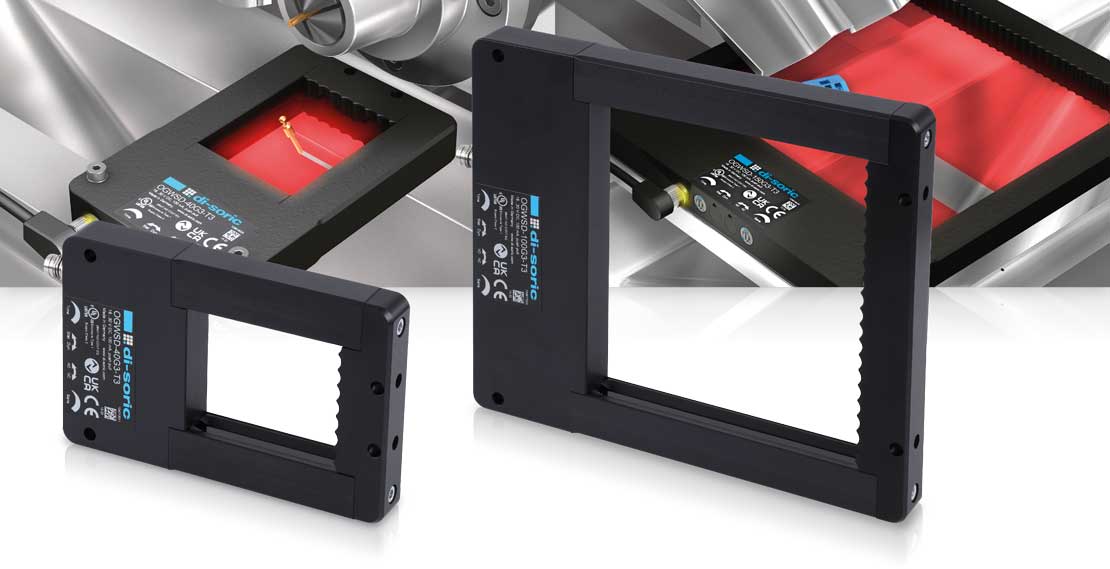 FRAME LIGHT BARRIERS
OGWSD WITH IO-LINK
Various advantages combined
Di-soric's framed light curtains can be installed quickly and are immediately ready for use, thanks to the perfect alignment and calibration of the transmitter and receiver. They also detect very fast moving objects regardless of position throughout the entire detection range and are ideal for counting operations and range detection.
No apps are left out
Thanks to the variety of sizes and formats, high resolution and ultra-fast reaction time, our frame light curtains enable optimum, process-reliable solutions – always adapted to the application and the available installation space.
Universal use possible
The OGWSD series convinces with its high flexibility in many application areas with static and dynamic object detection, sensor modes and IO-Link.
Sustainable Durable
light curtains with di-soric frames are also characterized by an extremely robust metal housing and connectors and a high protection class IP67.
---
Install location: Usually installed outside of machines
---
Environment: Harsh machine environment with strong mechanical stresses
---
Settings: Directly at the sensor via potentiometer and IO-Link
---
Switching outputs: 1 switching output
---
Variants: 7 sizes, sensing range min. 25 x 22 mm to max. 300 x 398 mm
---
IDEAL FOR INDUSTRY 4.0
SYSTEM DESIGNS
Frame light curtains with IO-Link
Frame light curtains are traditionally used to detect falling objects, often in counting applications. New, additional fields of application are made possible by the OGWSD's 4 sensor modes.
4 sensor modes via IO-Link for maximum flexibility
---
Static: Position-independent presence control of objects for detection of falling objects
---
Dynamic: Very small, ideal for detecting falling objects, very reliable in process, high functional reserve in dirty optics, detection of objects guided in a tube
---
Shading: Evaluation of light intensity at the receiver for feature control, position control and presence control
---
Peak value: Evaluation of maximum shading of falling objects for verification and differentiation of falling objects
---
Supportive, intelligent IO-Link functions for frame light curtains
---
Diagnostic function Stability: Indicates that object detection is impaired, for example due to contamination. After clearing and sufficient functional reliability, the status bit is reset.
---
Calibration: With this function, the sensor in the mechanical installation situation is calibrated to the measured value 0. With the calibration, the influence of reflections can be minimized – small objects can thereby be better detected under critical installation situations.
---
Auto-Teach: This function can be used to learn about falling objects.
---
Process value region: Zone where a falling object is detected - up to 4 zones depending on its size.
---
FRAME LIGHT BARRIERS
IO-LINK İLE OGWSD
The robust, fast series with an activation time of 0.05 ms for conveyor technology – can be immediately installed and operational
Robust OGSWD in frame design are distance sensors that recognize objects regardless of the object position in the detection range. They are extremely suitable for the detection of very small parts. The multifunctionality of the OGWSD series is expanded with additional sensor modes for detecting immersed objects and for distinguishing and verifying larger objects.
Frame format with removable crossbars
for more flexibility in the applications
No blind zone
The mechanical recess matches the detection range
Impact protection
Highly resistant, flexible protection of optics against damage
Position-independent object detection
Easy operation and commissioning
Couple working concept
Via 4 potentiometers and IO-Link
Operating elements
Sensitivity
Static dynamic
NO / NC
Switch-off delay
Activation time 0.05 ms - size independent
Ideal for recognizing very fast falling objects in highly dynamic processes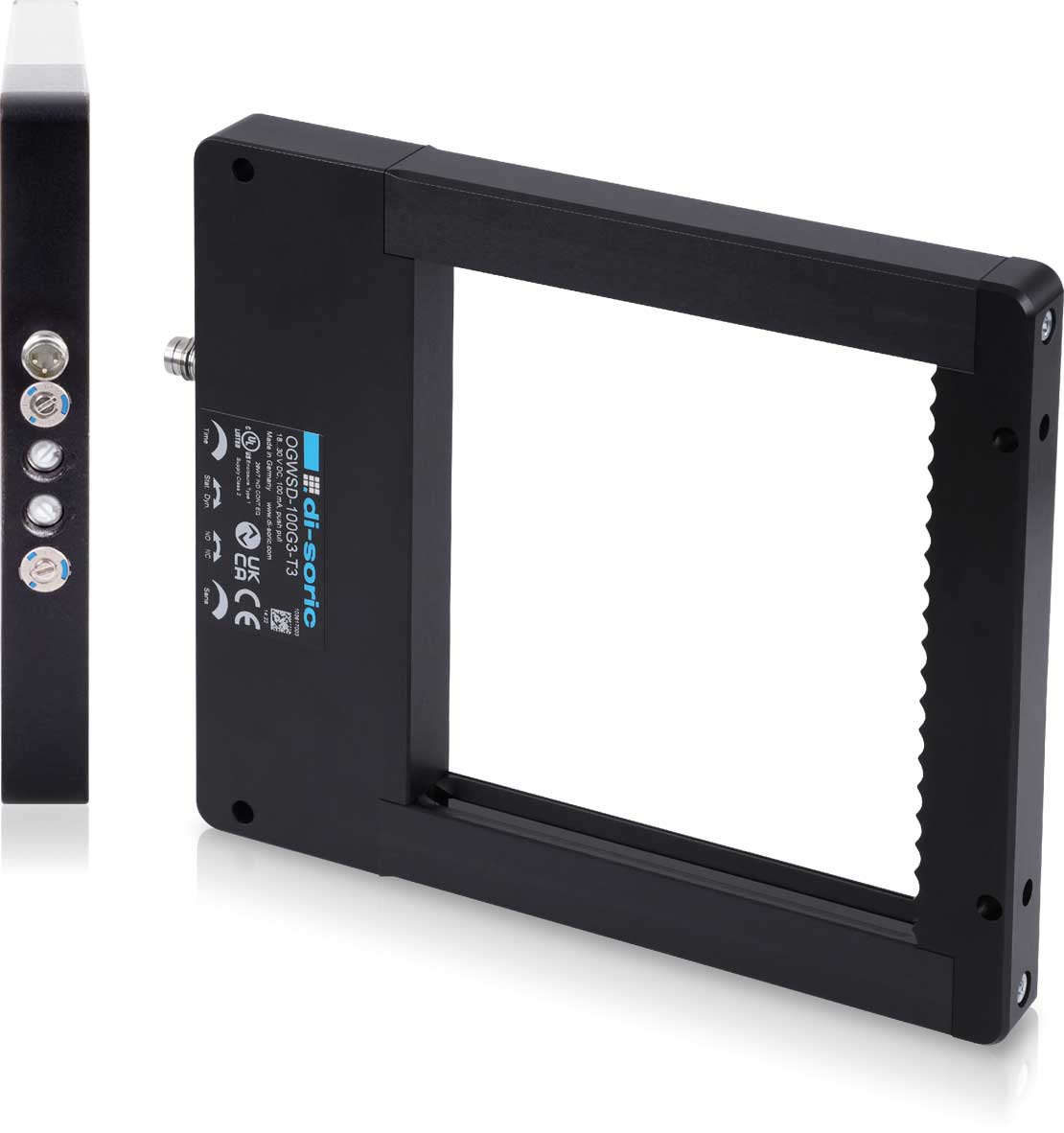 Recognition of objects from Ø 0.7 mm (depending on size)
With the "dynamic" sensor mode, the process can be reliably detected over the entire detection range of the OGWSD, even in the case of small, falling objects, contamination
Connection
Connector M8, 3-pin, market standard and compatible with previous products
No blind zone
IO-Link - Ready for digitization
Push-pull output
pnp or npn functionality in one device
4 sensor modes: new fields of application for frame light curtains
In addition to the recognition of falling objects, OGWSD is suitable for feature, presence and location checks within the detection range.
The right size for every application
7 sizes with a minimum detection range of 25 x 22 mm up to a maximum of 300 x 398 mm of OGWSD can provide the appropriate frame for any application.
Compact design with small dimensions
Robust metal housing in shock-proof frame design for optics, resistant to operation with extremely high mechanical stresses
Optimum ratio between enclosure width and detection range
Narrow crossbar
Center oriented actuations and connectors for easier assembly
Same drilling distances and detection ranges as previous products
Depth only 15mm