Sabit Montajlı ID Okuyucular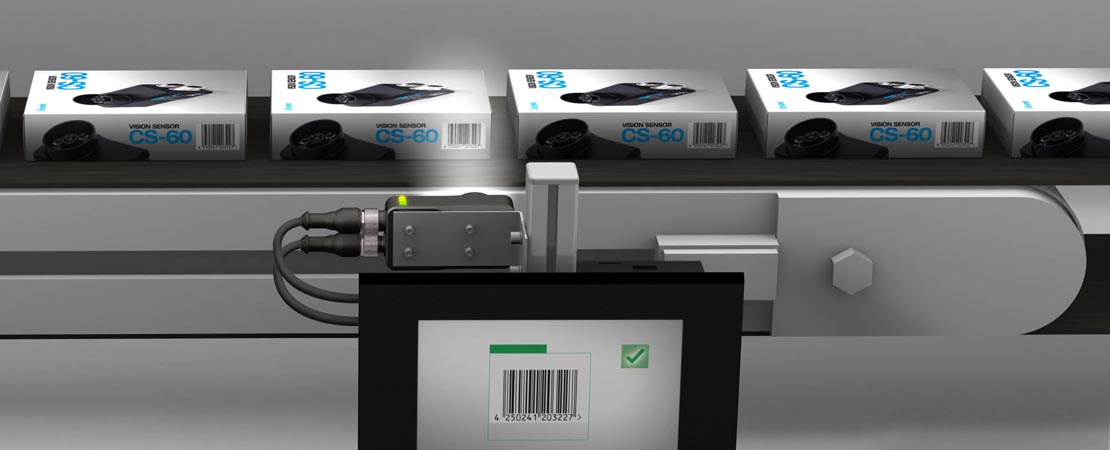 FIX-MOUNTED ID READERS ID-600
FOR ADVANCED CODE-READING TASKS IN SMART PRODUCTION
Our ID-600 offers outstanding versatility for the highest degree of productivity in versatile production systems.
he compact, versatile ID readers of the ID-600 series convince with an upgradeable software scope, a clever and robust illumination concept, M12 interchangeable optics as well as extensive optics accessories.
Industry-leading algorithms for high read rates
The ID-600's software-integrated image correction and calibration to optimize image quality guarantees excellent images in terms of distance, field of view and resolution.

With the quickly configurable nVision-i software and the comprehensive code reading tools, optimum performance is achieved with smooth startup and changing requirements. If required, the tools can be extended by a software upgrade or individually optimized by customizing.

The versatile Profinet connection to the existing PLC module and image transfer via FTP/SFTP round off its flexibility
Integrated high power LED illumination
in red and white, switchable via software
for optimal startup at a high speed and at a large working distance.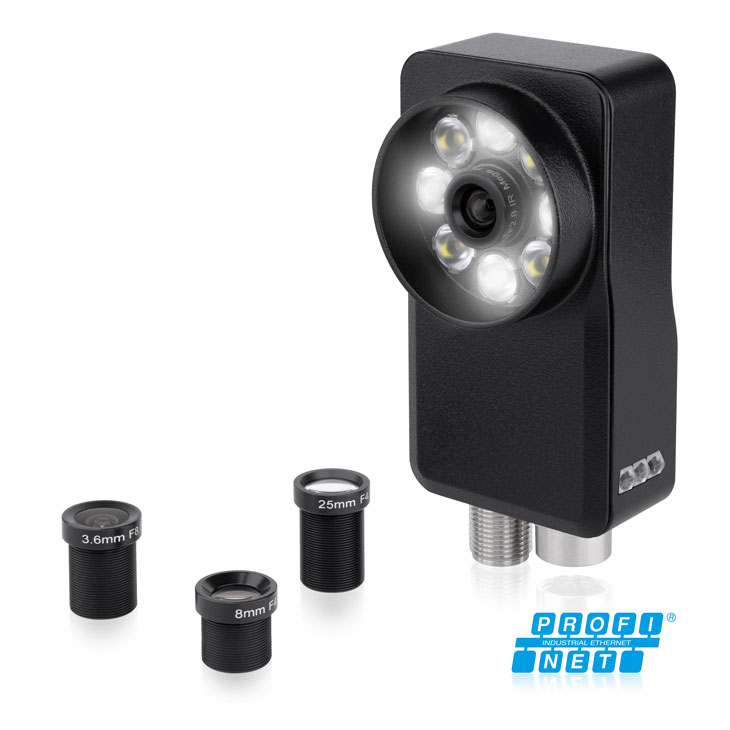 Comprehensive focal lengths
through M12 interchangeable lenses
for satisfying all common application requirements in industrial code reading
User-friendly, intuitive software and high-performance ID code reader tools
ensure simple and seamless integration
Image correction and calibration
for improving the image quality
Reliable and fast
The ID reader for all common 1D and 2D code types
Upgrade function
License upgrade for reading hard-to-read directly marked codes (DPM)
Customizing
The software can be customized as needed
Robust, compact housing with IP67
for use in factory environments with active washing without attaching additional protective equipment
Supports industry protocols
Digital I/O, TCP/IP, Profinet, HTTP, FTP/SFTP and ReST-API
APPLICATIONS
Our ID-600 units rise to the challenge of even ambitious ambient conditions and code-reading tasks and thus can be used in a variety of industries.
Comprehensive code reading tools ensure that all common 1D and 2D codes are read in, as well as DPM codes and that the determined data and created images are transmitted via various communication interfaces.
Fields of application
When tracking components, where also directly marked codes are used and not only the decoded data but also the created images have to be transferred (via FTP/SFTP) for quality control of the codes
In areas where versatility and configurability are required for fast changeovers
Code reading
in part feeding, assembly and handling technology, secondary packaging etc.
of very small codes / codes with little contrast
under demanding lighting conditions
in plant environments with frequent wash cycles
nVISION-i
The configuration software of our ID-600 ID readers
Save time
Not just because of the interface, which is clear, intuitive and simple to operate, but also because of the high-performance tools, which are consistently optimized at the highest quality and with the highest level of performance. The visualization of the pipeline and linking of individual tasks in the Logic tool make the greatest degree of versatility and high speed in the realization of the application possible.
Pipeline & status checks
Inspection tools can be inserted here and moved via drag & drop
Measured values and check results/status are shown here
Navigation bar & inspection tools
Intuitive and user-friendly navigation menu
Contextual help can be displayed as needed
Menu guidance can be toggled between 7 languages (German, English,French, Italian, Spanish, Chinese, and Korean)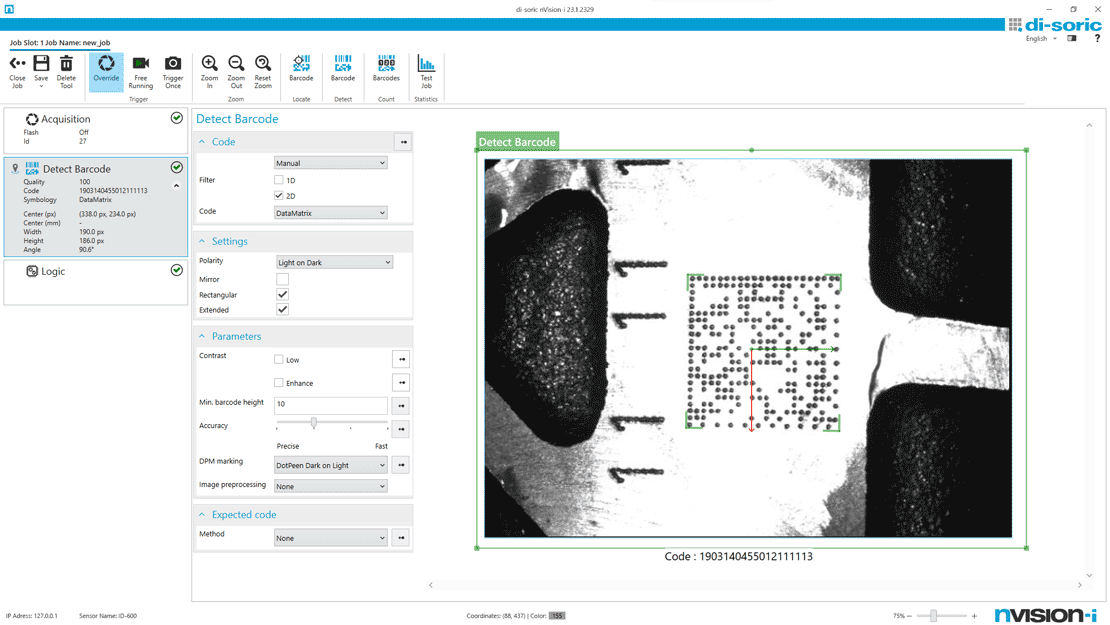 Configuration
Parameters for search criteria can be set simply and directly
Threshold values for the evaluation criteria can be entered easily
Display & drawing tools
Image viewing for the control and analysis during operation
Context-sensitive description of the tools on the right side to ensure optimal tool use with their complete functionality
nVISION-i
The Logic-Tool
Save time
High performance and versatility
The versatility to link various tool results enables the ID reader to process various types without switching between jobs – for example, when the production process runs with multiple varieties.
The great versatility is another advantage. Profinet communication can be adapted to existing standard communication modules.

Short orientation period, no training required
The graphics-oriented Logic tool is based on a function plan (FUP), whereby a clear display is possible, even in more complex functions. This, in turn, ensures that the implementation of the behavior of inputs and outputs is simple and highly transparent.
This eliminates the need for training, since the procedure is already familiar from daily use of PLC programming.
nVISION-i
Image correction and calibration
Integrated image optimization
With 2 clicks, distortions and shadowing to the image edge can be easily eliminated by calibration via nVision-i. Thus, the ID reader meets the requirements especially in those areas where flexibility, easy configurability and fast changeovers are in the foreground.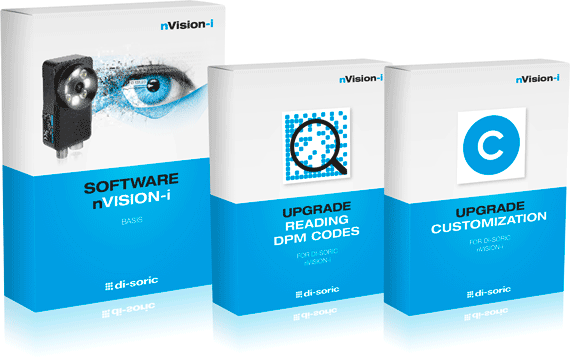 Select what you need
nVision-i is an intuitive and easy-to-use configuration software that can be upgraded and customized to meet your application requirements.
Software nVision-i Basic license
The free basic license is required to activate the nVision-i software, which you can download from the download area on the detail page of an ID-600.
Upgrade Module DPM
The ID600-UP-DPM-LIZENZ extends the ID reader with the functions for high-performance reading of hard-to-read directly marked codes (DPM) even on difficult surfaces.
Upgrade Customization
If necessary, the software can be individually adapted to your requirements. Arrange a consultation appointment with our specialists: